FOREWORD
Article available only in Malay.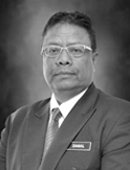 Assalamualaikum Warahmatullahi Wabarakatuh.
Salam Sejahtera, Salam 1Malaysia: Rakyat Didahulukan, Pencapaian Diutamakan dan Salam Negaraku Malaysia.
Perkhidmatan Awam merupakan tonggak utama atau tiang seri kepada sistem pentadbiran negara. Justeru, adalah wajar penjawat awam diberi tanggungjawab untuk melaksanakan projek/program pembangunan berpaksikan kepada Dasar Transformasi Nasional yang diilhamkan oleh Perdana Menteri sejak tahun 2010. Usaha ini sudah pasti akan memacu Malaysia menjadi sebuah negara maju dan berpendapatan tinggi menjelang Tahun 2020.
Justeru, usaha-usaha untuk menambahbaikkan kualiti Perkhidmatan Awam yang berteraskan kepada budaya dan nilai positif, inovasi dan kreativiti terus dijadikan platform kukuh bagi menderaskan pelunasan pelaksanaan projek/program berkenaan yang optimum supaya memberi manfaat kepada rakyat secara yang lebih efisien dan efektif. Seyogia itu, Jabatan Perkhidmatan Awam (JPA) perlu membawa perubahan yang komprehensif bagi memastikan Perkhidmatan Awam sentiasa relevan dan berupaya melaksanakan tanggungjawab memenuhi aspirasi rakyat menjelang Tahun 2050.
Budaya kerja organisasi berprestasi tinggi dan kecemerlangan merupakan amalan utama bagi memastikan penjawat awam terus fokus memberikan perkhidmatan beyond the limit dan do more with less. Dalam usaha mencapai falsafah dan makna sebenar Tahun Penyampaian Perkhidmatan, JPA akan terus menjadi agensi peneraju dalam melahirkan modal insan terbaik, berbakat, berkebolehan tinggi serta tangkas menghadapi dan menangani cabaran sama ada dalaman mahupun luar negara.
Sewajarnya, penjawat awam perlu peka kepada perkembangan perkhidmatan awam di masa hadapan yang berada dalam Revolusi Perindustrian Keempat. Fenomena megatrends seperti urbanisasi, perubahan cuaca, kekangan sumber, perubahan demografi dan isu penuaan merupakan cabaran baharu yang memerlukan Perkhidmatan Awam lebih responsif untuk mencari pendekatan baharu penyampaian perkhidmatan kepada rakyat. Penjawat awam perlu bersiap siaga dengan kemahiran baharu, menguasai ilmu, berintegriti dan memanfaatkan teknologi baharu untuk menghadapi cabaran tersebut dan terus kekal relevan, berdaya saing dan mampan.
Kelangsungannya, JPA akan terus berusaha mengamalkan budaya kerja cemerlang dan mempraktikkan pendekatan inklusif melalui keterlibatan atau engagement secara total dengan semua yang berkepentingan. Pada masa yang sama, selaku penjawat awam, sifat dengki, mengadu domba dan amalan memfitnah hendaklah dihapuskan sama sekali supaya wujud persekitaran kerja yang sihat. Bekerja secara berpasukan diutamakan dalam menyempurnakan amanah yang dipertanggungjawabkan.
Semoga penjawat awam, pengurus sumber manusia sektor awam, para pesara, pelajar dan orang awam dapat memanfaatkan sepenuhnya maklumat dan perkhidmatan yang disediakan melalui portal JPA ini. Sebarang cadangan dan input bagi menambah baik penampilan dan kandungan portal JPA adalah sangat dialu-alukan.
Bersama-samalah dengan JPA dalam usaha untuk menelusuri arus transformasi membangunkan Perkhidmatan Awam Malaysia.
Salam hormat.
DATO' SRI ZAINAL RAHIM BIN SEMAN
KETUA PENGARAH PERKHIDMATAN AWAM
This email address is being protected from spambots. You need JavaScript enabled to view it.