Introduction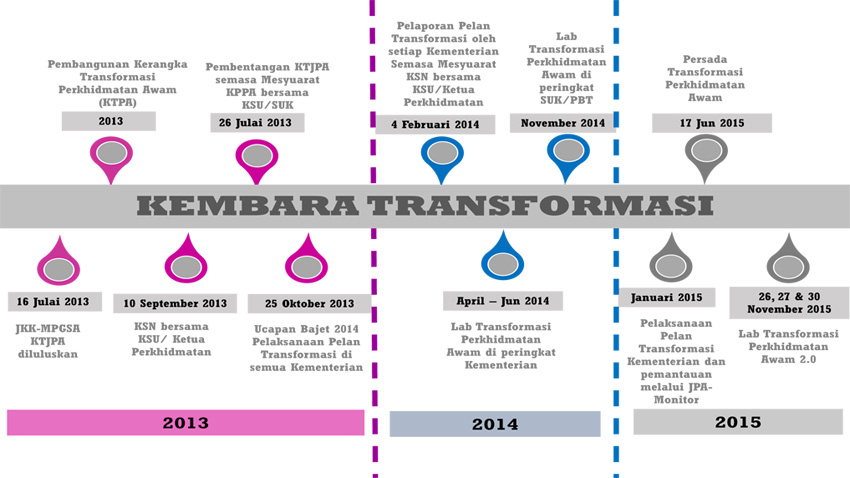 In line with the National Transformation Policy towards becoming a high-income developed nation by the year 2020, JPA has been given the mandate to lead the public service transformation efforts. Chief Secretary to the Government (KSN) while addressing the 13th Public Service Premier Gathering (MAPPA XIII) on 11th March 2013 stated that a new paradigm in the context of the national transformation requires the public service to be more flexible and vigorous in delivering services to the Rakyat. Therefore, he announced that the transformation would be led by the two leading central government agencies, namely the PSD and the Ministry of Finance, in order to ensure that the public service remains relevant and important.
The presentation of the Public Service Transformation Framework (PSTF) to the JPA's Divisional Directors and personnel on 3 May 2013 serves as a useful starting point on this long journey. Based on the various feedback, the final draft of the PSTF was presented to the Cabinet Committee on Establishment and Salaries of Employees in the Public Sector (JKK-MPGSA) on 16 July 2013. Following approval from the Cabinet Committee, the PSTF was then presented to the Secretaries-General (KSU) and the State Secretaries (SUK) Meeting on 26 July 2013, followed by a presentation to the Secretaries-General and Head of Services (KSU-KP) Meeting on 10 September 2013. Extensive engagement and consultation with various stakeholders and clients are important to ensure that the public service remains competitive, creates values and stays relevant.
During the 2014 Budget Presentation on 25 October 2013, the Prime Minister emphasised that the Government would implement transformation plans in every ministry to improve the service delivery system in order for them to remain relevant. Subsequently, the KSU-KP Meeting on 4 February 2014 agreed that all ministries/agencies should take the initiative to initiate their own transformation in which each ministry and agency can voluntarily present their transformation plans during the meetings. The decision was reiterated in the meeting between the Director-General of Public Service (KPPA) with KSU and SUK on 4 March 2014.
The five strategic thrusts are:
ST1 – Revitalising Public Servants
ST 2 – Reengineering Public Organisations
ST 3 – Enhancing Service Delivery
ST 4 – Inclusiveness and ownership
ST 5 – Enculturing Shared Values
A total of 123 initiatives have been identified in 2014 which is collectively known as the TI-100. These initiatives are developed with the aim to benefit the rakyat and also to ensure excellent public service delivery. The implementation of all these transformation initiatives is all geared towards a civil service with greater preparedness to address existing and future challenges and also to realize the public service transformation objectives.