Service Division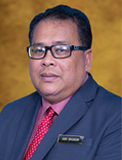 Datuk Abd Shukor Mahmood
This email address is being protected from spambots. You need JavaScript enabled to view it.
To institute an excellent Civil Service by formulating and implementing effective and strategic Public Service policies and career development.
To formulate and implement public service policies and strategies;
To monitor implementation of public service policies;
To provide consultancy services in areas relating to public service policies;.
To manage human resource of common-user services;
To manage performance appraisal and competency of the public officers; and.
To implement public service disciplinary, examination and promotion matters.
Hits: 4778