Legal Advisors Office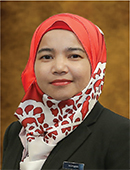 Puan Norizan binti Arifin
This email address is being protected from spambots. You need JavaScript enabled to view it.
To provide quality and professional legal advice to the Government in accordance with the Federal Constitution and the laws of Malaysia.
Provides legal advice in respect of matters referred to it by the Government.
Assists in the interpretation of laws as and when required by the Government.
Drafts or vets legal documents such as legal notices, agreements and memorandum of understanding to which the Government is a party to ensure that the interest of the Government is protected.
Conducts research or studies on legal matters as and when required by the Government.
Provides advice on matters in which the Government intends to regulate, prepares draft bills on such matters, if any, to reflect the policy decisions as may be made by the Government, and submits the draft bills to the Parliamentary Draftsman for approval.
Participates in contract negotiations in respect of Government projects, in particular privatisations and ICT projects.
Attends meetings upon the invitation of the Government agencies and provides legal advice on matters discussed to ensure that any policy decision made by the Government is in accordance with the law.
Participates in knowledge sharing or training sessions on legal matters by providing legal expertise to both the Government and non-government agencies.
Hits: 11509