Management Service Division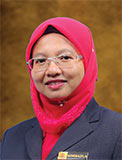 Puan Norsazila binti Nordin
This email address is being protected from spambots. You need JavaScript enabled to view it.
To manage the human resource and services management efficiently and effectively.
Manages PSD's personnel establishment, inspectorate and recruitment.
Manages the placement and exchange of PSD officers
Manages the training and competency development of PSD officers
Manages matters related to services and counselling for PSD officers.
Manages matters related to finance, procurement and development matters in PSD.
Manages PSD's Quality Programme.
Manages PSD's administration and logistics.
Manages the activities of Federal Territory Government Officers Welfare and Recreational Council (MAKSWIP) and PSD Club.
Coordinates Human Resources Management Information System (HRMIS) applications.
Serves as the Secretariat to the Human Resources Development Panel, Excellent Service Award Council (APC), Disciplinary Board, Integrity Management Committee, and Departmental Joint Council (DJC).
Hits: 12661