INTAN
NATIONAL INSTITUTE OF PUBLIC ADMINISTRATION (INTAN)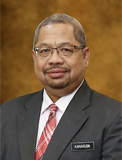 Datuk Dr. Kamarudin bin Min
This email address is being protected from spambots. You need JavaScript enabled to view it.
Developing knowledge, competency, positive values and attitude among public officials to ensure they are capable of providing efficient services for an effective implementation of the government policies and national agenda.
To produce public servants who are dynamic, progressive, competitive and entrepreneurial (creative and innovative) to execute their duties efficiently;
To assist in the successful implementation of programmes, policies and national agenda; and
To spearhead the public sector's learning.
To carry out training that focuses on developing attitude, strengthening of skills and empowering the knowledge of public servants; and
To carry out research, consultancy and publication activities to equip public servants with talents, ability and constructive thinking.
People centric
Integrity
Professionalism
Creative and innovative
Esprit de corps
Continuous learning
Hits: 2779